Welcome message
Please do not remove our link from your embed code.
The theme of the conference is
"Probing and counteracting the toxic impacts".
This three-day conference aims in creating a great platform to interact with the worlds' leading
Toxicologists,
Pharmacologists
, Ecologists, and many other specialists in the field of toxicology who will address on the recent advancements and novel approaches on
Pharmacology
and Environmental Toxicology and related fields such as
Green Chemistry
,
Environmental chemistry
,
Soil toxicology
,
Aquatic Toxicology etc., thereby helping everybody in enriching their knowledge and expanding their scientific skylines.
This conference will provide a great opportunity for young researchers and students in knowing about the recent trends, researchers and scenario of Environmental Toxicology and Pharmacology thereby creating awareness in protecting our environment. This will give a worldwide stage to trading thoughts and make the participants aware of the impacts and advancements in the field. This will be a great chance to witness the presentations conveyed by eminent scientists from every corner of the world.

We look forward to share the knowledge with the professionals and provide them with a good exposure through this international event. We hope you will have a great opportunity to benefit from this event. Great scenic beauty with friendly faces and a warm welcome awaits you!
About conference
International Conference on Environmental Toxicology and Pharmacology scheduled to be held on February 21 - 23, 2019 at Paris, France. will emphasize elaborately on the various advancements and approaches in Environmental Toxicology and Pharmacology. This conference includes keynote presentations, panel discussions, video presentations, poster presentations and exhibitions and aims in bringing together various scientists and researchers who are the experts in this field.

Keynote Speech of Toxicology Experts
50+ plenary talks by researchers all over the globe
Opportunity to meet global experts in Environmental Toxicology
Impressive Exhibitions
Posters, e-posters and video presentation by research community
International Certification by Organizing Committee
Live Streaming of your presentation through our websites and YouTube
Publishing accepted abstract in International Journals
Reasons to attend:
This conference will enlighten the mind of the people with a clear understanding of
toxicology
and pharmacology, which is the talk of the globe. This will provide a great opportunity for young researchers and students in knowing about the recent trends, researchers and scenario of
Environmental Toxicology
and
Pharmacology
thereby creating awareness in protecting ourselves and the environment. Exposure to various video presentations, poster sessions, plenary talks and panel discussions will provide them with an opportunity to develop new strategies in their research. This conference comprises plenary sessions, panel discussions, oral presentations, poster presentations will give an insight into all the novel and emerging trends in
Environmental Toxicology
and
Pharmacology
.
Target Audience:
Toxicologists
Pharmacologists
Doctors
Pharmacology Industrialists
Environmentalists
Biotechnologists
Professors
Scientists
CEOs of Biotech Companies
Directors
Co-Executives
Students
Research Scholars
Sessions
Applied Pharmacology forms the basics of Pharmacology which is all about how exactly the drug works and the various other side effects caused by the drugs. Recent in applied Pharmacology has given rise to several new discoveries regarding the mechanisms of drug and the way they work in a patient's body.
Pesticide Poisoning is one of the main contributing factors for soil toxicology. The vegetables or grain is grown in the soil that is been poisoned by the use of pesticides, when took by humans and animals, proves to be a dangerous source of poison for the human and animal health. Recent research in environmental Toxicology has given rise to research that involves eliminating these poisons.
Firstly, the nature and quantities of chemicals should be established. This helps in foreseeing the consequences that are likely to occur. The probability and severity of the dangers are then figured out.
Risk screening may be performed by analyzing the contaminant concentrations of the media sample. Contaminant concentrations might be accessible from lab investigation of defiled media tests.
The dose-response relationship is evaluated. The outcome of this is PEC(Predicted Effect Concentration) or PNEC(Predicted No Effect Concentration).
Market Analysis
The scope of Environmental Toxicology:
Environmental Toxicology is an emerging interdisciplinary field which combines the field of Environmental Sciences and Toxicological studies. This mainly focuses on the lethal effects of chemicals and other contaminants that can produce an adverse effect on the environment. Due to the increase in pollution and contamination, people around the globe are more cautioned about the means and measures to be taken to live in a clean and pure environment. Hence, there is a huge drastic increase in the research that is carried out in this field. Recent researches have given rise to various solutions to defend Environmental Toxicity.
Students and young researchers are more interested in choosing this as their field of interest. The ecotoxicity testing and risk assessment are two major fields in environmental toxicology that researchers focus on.
Global Market of Environmental Toxicology: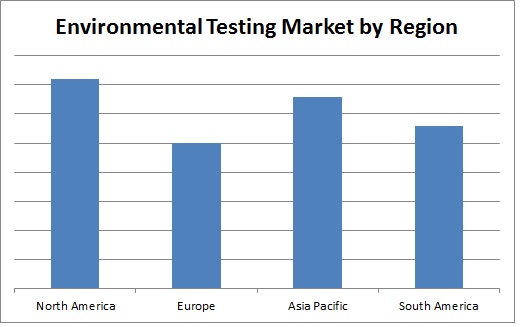 The global market of Environmental Testing, otherwise called as Ecotoxicity testing is expected to rise to 12.75 billion USD in 2021 at a CAGR of 7.1 %. This increase shows us that the research in Environmental Toxicology will be an emerging field with a good scope and profitable market in the future years. Of all the countries in the world, USA tops the chart of Global Market in Toxicology and Environmental Analysis, followed by Europe.
Global Market of Europe: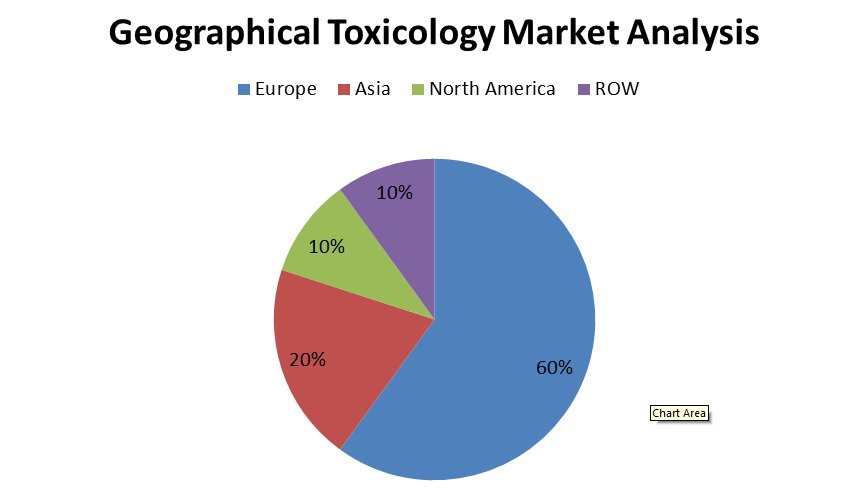 Europe tops the toxicology testing market which also includes environmental testing and risk assessment market. This is because of the presence of several societies that are present in Europe. The prominent ones like the EUROTOX, ECETOC, BPS, French Toxicology Society, European Association of Poison Centres and Clinical Toxicologists etc
. The number of universities offering courses in Environmental Studies and Toxicology is high in the European Countries, especially Germany and France which is next in chart to the USA. This shows that the researchers and students in the US and Europe are more oriented towards the research in Environmental Studies and Toxicology.
Major Associations and Societies around the globe:
Society of Toxicology
Society of Environmental Toxicology and Chemistry (SETAC)
Society for Chemical Hazard Communication (SCHC)
International Union of Toxicology (IUTOX)
International Center for Toxicology and Medicine (ICTM)
Federation of European Toxicologists and Societies of Toxicology (EUROTOX)
Environmental Toxicology Laboratory, LLC (ETL)
Environmental and Occupational Health Sciences Institute
British Pharmacology Society (BPS)
Societies in Europe:
European Centre for Ecotoxicology and Toxicology of Chemicals(ECETOC)
· Austrian Society of Toxicology (ASTOX)
· European Association of Poison Centres and Clinical Toxicologists
· EUROTOX
· French Society of Toxicology
· German Society of Toxicology (GT)
· Polish Society of Toxicology, Portuguese Toxicology Association (PTA),
· Irish Society of Toxicology
· Italian Society of Toxicology
· Society of Hungarian Toxicologists,
· Spanish Association of Toxicology.
Why Paris?
In the European region, Paris is nested with a huge network of universities and research centers in the field of Environmental Sciences. REACH ( Registration, Evaluation, Authorization, and Restriction of Hazardous Chemicals ) is the legislation that is followed by Europe. This safeguards the environment and the human health by implementing certain safer methods in the use of chemicals. This proves the concern level of Europe over the environment and the human health. Paris has great universities and a number of research laboratories filled with great minds in the research of Environmental Sciences and Pharmacology.
Paris with its fascinating tourist attractions and a pleasant weather welcomes you all to this great scientific gathering!
http://earthsciencecongress.alliedacademies.com