Welcome message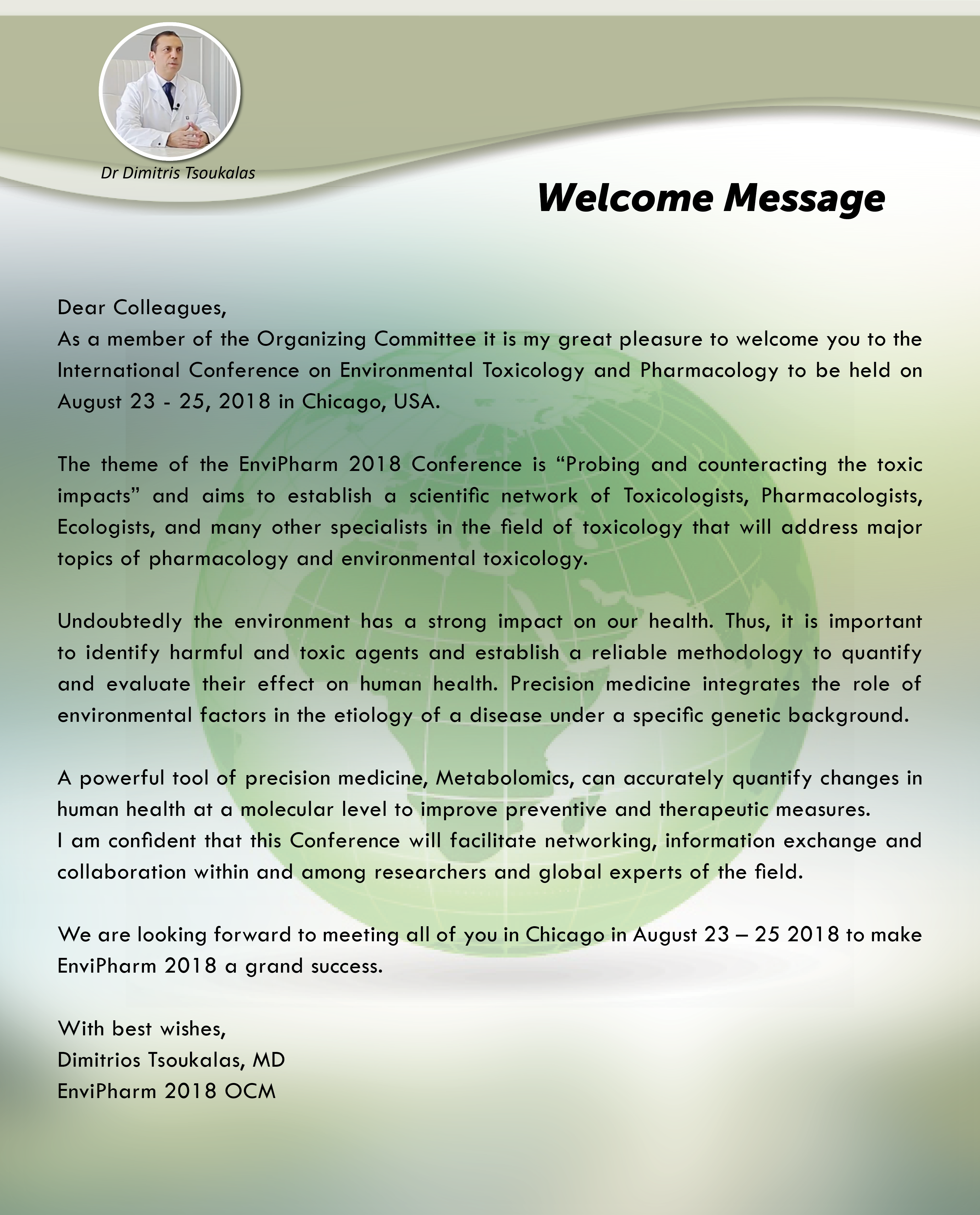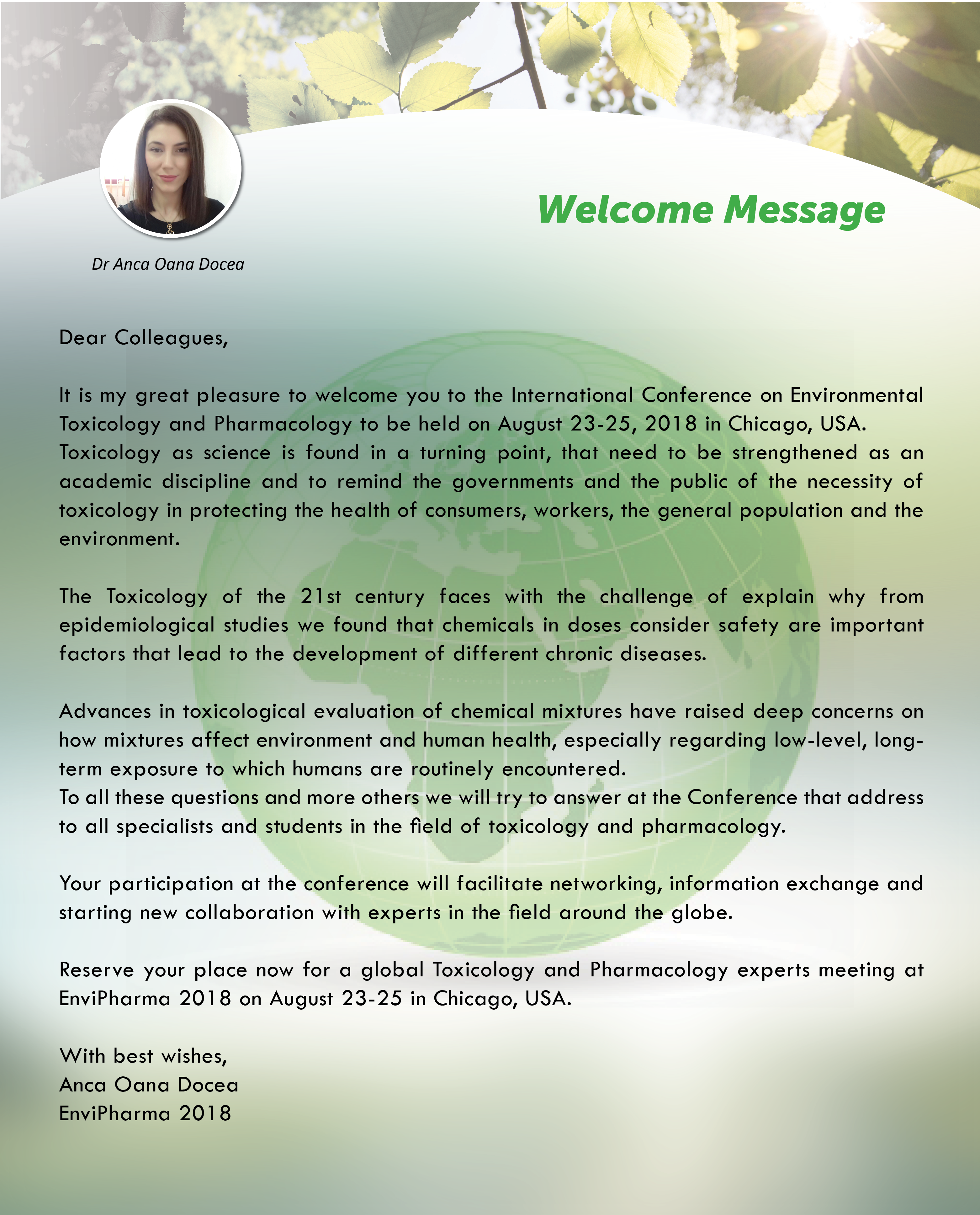 The theme of the conference is
"Probing and counteracting the toxic impacts".
This three-day conference aims in creating a great platform to interact with the worlds' leading
Toxicologists,
Pharmacologists
, Ecologists, and many other specialists in the field of toxicology who will address on the recent advancements and novel approaches on
Pharmacology
and Environmental Toxicology and related fields such as
Green Chemistry
,
Environmental chemistry
,
Soil toxicology
,
Aquatic Toxicology etc., thereby helping everybody in enriching their knowledge and expanding their scientific skylines.
This conference will provide a great opportunity for young researchers and students in knowing about the recent trends, researchers and scenario of Environmental Toxicology and Pharmacology thereby creating awareness in protecting our environment. This will give a worldwide stage to trading thoughts and make the participants aware of the impacts and advancements in the field. This will be a great chance to witness the presentations conveyed by eminent scientists from every corner of the world.

We look forward to share the knowledge with the professionals and provide them with a good exposure through this international event. We hope you will have a great opportunity to benefit from this event. Great scenic beauty with friendly faces and a warm welcome awaits you!

About conference
International Conference on Environmental Toxicology and Pharmacology scheduled to be held in Chicago, USA during August 23-25,2018 will emphasize elaborately on the various advancements and approaches in Environmental Toxicology and Pharmacology. This conference includes keynote presentations, panel discussions, video presentations, poster presentations and exhibitions and aims in bringing together various scientists and researchers who are the experts in this field.

Keynote Speech of Toxicology Experts
50+ plenary talks by researchers all over the globe
Opportunity to meet global experts in Environmental Toxicology
Impressive Exhibitions
Posters, e-posters and video presentation by research community
International Certification by Organizing Committee
Live Streaming of your presentation through our websites and YouTube
Publishing accepted abstract in International Journals
Reasons to attend:
This conference will enlighten the mind of the people with a clear understanding of
toxicology
and pharmacology, which is the talk of the globe. This will provide a great opportunity for young researchers and students in knowing about the recent trends, researchers and scenario of
Environmental Toxicology
and
Pharmacology
thereby creating awareness in protecting ourselves and the environment. Exposure to various video presentations, poster sessions, plenary talks and panel discussions will provide them with an opportunity to develop new strategies in their research. This conference comprises plenary sessions, panel discussions, oral presentations, poster presentations will give an insight into all the novel and emerging trends in
Environmental Toxicology
and
Pharmacology
.
Target Audience:
Toxicologists
Pharmacologists
Doctors
Pharmacology Industrialists
Environmentalists
Biotechnologists
Professors
Scientists
CEOs of Biotech Companies
Directors
Co-Executives
Students
Research Scholars
Sessions
There are several software packages that can help with the implementation of the program. The main feature of the program is to list the things that are to be monitored and the time-scale at which monitoring has to take place.
Firstly, the nature and quantities of chemicals should be established. This helps in foreseeing the consequences that are likely to occur. The probability and severity of the dangers are then figured out.
Risk screening may be performed by analyzing the contaminant concentrations of the media sample. Contaminant concentrations might be accessible from lab investigation of defiled media tests.
The dose-response relationship is evaluated. The outcome of this is PEC(Predicted Effect Concentration) or PNEC(Predicted No Effect Concentration).
Surface coatings of particles
Introduction to UV radiation
Scattering properties
Market Analysis
Environmental Toxicology
is a discipline of Toxicology that focuses primarily on the harmful effects by lethal chemical and biological agents from pollutants, insecticides, oil spills, pesticides, and fertilizers that can affect an organism and its community by reducing its species diversity and abundance. Recent intensive research in this field has created a tremendous awareness in the minds of the public and has provided various measures needed to safeguard the ecosystem.
Pharmacology
is a diverse field comprising the mechanism of interaction of the drug with the body. Recent research in this field has opened up to several drug and body interactions.
Global market at a glance:
The global
toxicity market
is estimated to reach USD 27.36 Billion by 2021 from USD 14.17 Billion in 2017, at a CAGR of 14.1%. for next six years, the market is steered by growing regulations.
This increase clearly shows that the research and advancements in the technologies have been tremendous in these years.
The global Environmental testing market is expected to reach 12.75 billion USD dollars from 9.03 USD dollars in 2017 at a CAGR of 7.1%. The USA is one of the pioneers in the environmental toxicology research and technologies, has contributed more to the world.
The location of establishments within the
Toxicology Laboratories
industry is influenced by the size of the American population. In the Southeast, accounting for an estimated 26.6% of employer establishments and an estimated 25.6% of the population; the West, accounting for 18.9% of establishments and 17.2% of the population; and the Mid-Atlantic, accounting for 15.7% of establishments.
Thus huge investments are made in the USA in the field of toxicology and its disciplines.
Global Market for Biomarkers: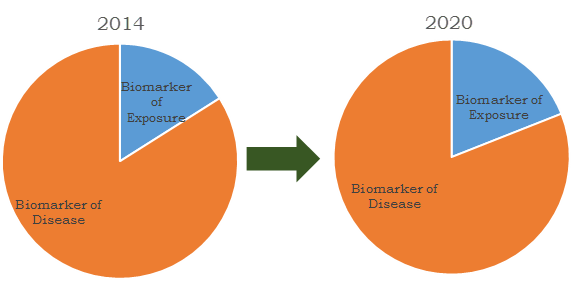 Biomarker
of Exposure is the biomarker used for assessing the toxicity level of chemicals that are hazardous in nature. Market growth is gradually increasing owing to development and advancements in technologies and research.
Of all research in the life sciences, USA carries out a major part of 46% i.e nearly half of the world's research. Various research clusters in The USA are present around cities of Chicago, Boston, Cambridge, Massachusetts, Maryland, suburban Washington DC, New York, Seattle and, Philadelphia.The USA seeks more attention on Environmental Toxicology thus showing a good economic growth and industrial development. The
Environmental Risk Assessment tool
plays a major support as there is an increase in the pollution of the environment.
Chicago is very well known for its scenic beauty and skyscrapers. World famous Shedd Aquarium, Historical museums, Willis tower, Clouds gate, Navy Pier and Chicago Riverwalk are places to be seen for sure. Many more places, famous restaurants to dine in, are also present. Be it the Cuisine you wish for, adventurous places and rides you long for or a calm walk by the riverside you desire, name it and Chicago has it all! The calm and serene atmosphere of Chicago extends its warm welcome to all the attendees of this conference.
Major Associations and Societies around the globe:
Society of Toxicology
Society of Environmental Toxicology and Chemistry (SETAC)
Society for Chemical Hazard Communication (SCHC)
International Union of Toxicology (IUTOX)
American Society for Pharmacology and Experimental Therapeutics (ASPET)
Association for Applied Human Pharmacology (AGAH)
International Center for Toxicology and Medicine (ICTM)
Federation of European Toxicologists and Societies of Toxicology (EUROTOX)
Environmental Toxicology Laboratory, LLC (ETL)
Environmental and Occupational Health Sciences Institute
British Pharmacology Society (BPS)
Major Societies in The USA:
American College of Toxicology
American Board of Toxicology (ABT)
American College of Medical Toxicology
American Society for Pharmacology and Experimental Therapeutics (ASPET)
Society of Environmental Toxicology and Chemistry (SETAC)
Society of Toxicology (SOT)
Key Universities in The USA:
University of California, Davis
St. John's University, New York
Cornell University, New York
University of Cincinnati
University of Alabama, Birmingham
Clemson's University, South Carolina
Oregon State University, Oregon